Doctor Who: The Deadly Assassin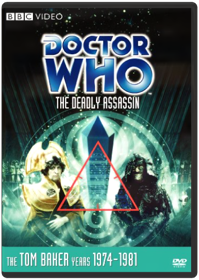 The Deadly Assassin: Gallifrey. Planet of the Time Lords. The Doctor has finally come home, but not by choice. Summoned by a vision from the Matrix, he is drawn into a web of political intrigue and assassination. Nothing is quite what it seems, and in the shadows lurks his oldest and deadliest enemy. Image of the Fendahl: A sonic scan draws the Tardis to the Fetch Priory on Earth. There the Doctor and Leela discover an impossibly old human skull that is the key to a nightmare from the Time Lords' past. A murderous monster stalks the priory grounds, and within, someone is intent on unleashing a malevolent creature that feeds on death itself. Delta and the Bannermen: The time: 1959. The place: the Shangri-La Holiday Camp. The Doctor and Mel want time out. The hedonistic alien Navarinos want to catch some vintage rock and roll. And two CIA agents want to know what happened to their country's missing satellite. When the beautiful Chimeron princess Delta shows up on the scene, the murderous Bannermen soon follow in hot pursuit. The stage is set for a fiery showdown that will decide the fate of an entire civilization.
Doctor Who: The Three Doctors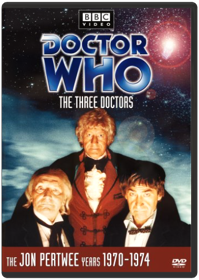 The Doctor and UNIT are called upon to investigate strange events surrounding Dr. Tyler's research into cosmic rays. UNIT HQ comes under attack by an alien force, and the Doctor has no other option but to call on the Time Lords for help. The Time Lords, too, are under attack - from a mysterious power emanating from a black hole in space. With power reserves falling, the only way they can help the Doctor is to break the First Law of Time and allow him to help himself. The First and Second Doctors are lifted out of their time streams and sent to Earth to help the Third. Between the three of them, they must find a solution to the threat that not only endangers UNIT and Earth, but also the future of the Time Lords themselves.

DVD Features:
Audio Commentary
Biographies
Interviews
Photo gallery
Production Notes
Josh and the Big Wall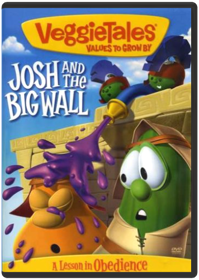 Josh and the Big Wall!" contains one hilarious, fully computer-animated story that teaches children a biblical perspective on obedience. Oh, boy! After forty years of wandering in the desert, the children of Israel finally get to go to the Promised Land! Only one little thing they've overlooked, though...Jericho! Yep. Surrounded by huge walls and bristling with really annoying peas, no one gets to the Promised Land without going through Jericho first! But how? Joshua has God's directions, but they sound kind of...well, weird. To make matters worse, some of the veggie are cooking up a plan of their own! In the end, they have to decide whether it's better to do things their way, or God's way! Kids of all ages will learn a lesson about obedience in this hilarious retelling of the classic Bible story - "Josh and the Big Wall"!
The Last Starfighter 25th Anniversary Edition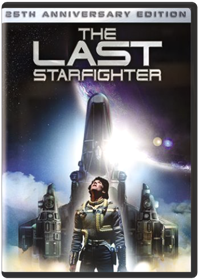 "Greetings, Starfighter! You have been recruited by the Star League to defend the frontier against Xur and the Kodan Armada." So begins an adventure of galactic proportions in The Last Starfighter. After Earthling Alex (Lance Guest) conquers the Starfighter video game, he is recruited by alien Centauri (Robert Preston) to be part of an elite legion of fighters. Leaving behind his trailer park home for the outer regions of space, Alex becomes the last hope for the beleaguered Star League and hundreds of worlds – including Earth. Loaded with out-of-this-world bonus features and digitally remastered for optimum picture quality, The Last Starfighter 25th Anniversary Edition is the ultimate video game fantasy come true!
Rise of the Planet of the Apes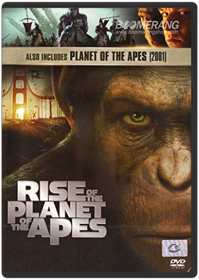 - Planet Of The Apes (2001) (Director : Tim Burton) Audio : English 5.1 DTS, English 5.1 Subtitle : English, Thai, Cantonese, Korean, Mandarin - Rise Of The Planet Of The Apes (2011) (Director : Rupert Wyatt) Audio : English 5.1, Thai 5.1, Spanish 5.1 Subtitle : English, Thai, Spanish, Cantonese, Korean, Mandarin, Indonesian, Malay
The Last Action Hero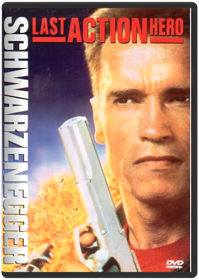 A young boy's movie hero comes to life, and together they fight the bad guys.
Vincent and Theo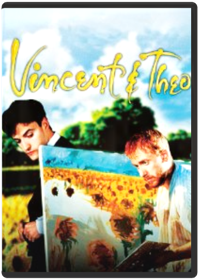 War Games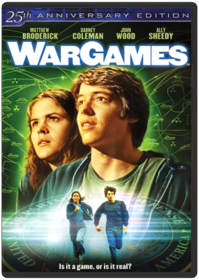 Matthew Broderick (Ferris Bueller's Day Off) and Ally Sheedy (The Breakfast Club) star in this compelling drama filled with action, suspense and high-tech adventures! Featuring superb performances by Dabney Coleman and Barry Corbin, WarGames is "brilliant...funny...and provocative" (New York)a fast-paced cyber-thriller. Computer hacker David Lightman (Broderick) can bypass the most advanced security systems, break the most intricate secret codes and mastereven the most difficult computer games. But when he unwittingly taps into the Defense Department's war computer, he initiates a confrontation of global proportionsWorld War III! Together with his girlfriend (Sheedy) and a wizardly computer genius (Tony AwardÂ(r) winner John Wood), David must race against time to outwit his opponent...and prevent a nuclear Armageddon.
Wing Commander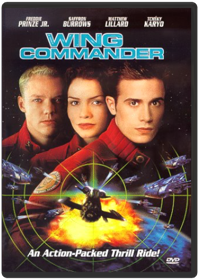 "Starship Troopers" meets "Top Gun" in this no-holds-battle for the future of mankind. A vicious alien race, the Kilrathi, has discover the coordinates to Earth and is heading our way with plans of the total destruction. Now it's up to two young hotshot fighter pilots to blast their way through the Kilrathi's defenses and save their planet from this new breed of enemy.
X-Men: The Last Stand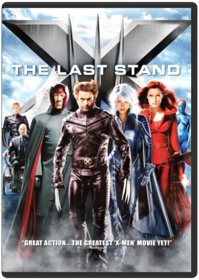 Experience the awesome power of The X-Men's epic, final battle. Join well-known mutant heroes and villains, and meet a cadre of all-new warriors — including Angel, Beast, Juggernaut and Colossus — in this thrilling, explosive adventure!

After a controversial "cure" is discovered, mutants can choose to retain their superhuman abilities or give up their unique gifts and become "normal." When peaceful mutant leader Charles Xavier (Patrick Stewart) clashes with his militant counterpart, Magneto (Ian McKellen), the battle lines are drawn for the war to end all wars.

Bursting with nonstop action, spectacular special effects and exclusive extras, X-MEN THE LAST STAND is a force of nature that "will blow you away!"
Doctor Who: The Time Warrior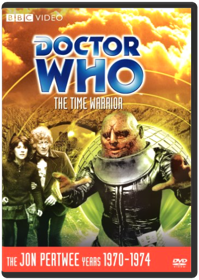 Alan Bromly
A terrifying clash between the past and future threatens the entire human race and plunges the Doctor and Sarah into a chilling race against time. When top scientists begin to mysteriously vanish, Doctor Who finds himself headed back in time to the middle ages and not-so-merry England. Linx, a war-loving Sontaren fleet commander, has crash-landed near a medieval castle and is supplying the feuding Irongron with advanced weapons that could totally change the course of human evolution. He is also using the kidnapped scientists to repair his ship. Linx is determined to return to his squadron - and nothing will stop him. As Irongron gets ready for battle, the Doctor makes his move. Can he save the doomed scientists, outwit Irongron and stop Linx from completing his catastrophic plan? The future of mankind is in his hands...
Wing Commander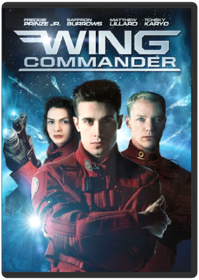 Wing Commander
Blair, a fighter pilot, joins an interstellar war to fight the evil Kilrathi who are trying to destroy the universe.
How to Train Your Dragon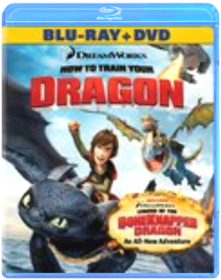 Dean DeBlois, Chris Sanders
How To Train Your Dragon
A winner with audiences and critics alike, DreamWorks Animation's How to Train Your Dragon rolls fire-breathing action, epic adventure and laughs into a captivating and original story. Hiccup is a young Viking who defies tradition when he befriends one of his deadliest foes – a ferocious dragon he calls Toothless. Together, the unlikely heroes must fight against all odds to save both their worlds in this "wonderful good-time hit!" (Gene Shalit, Today).

Legend of the Boneknapper Dragon
Hiccup and the Viking gang are back to battle Gobber's archenemy – the legendary BoneKnapper dragon – in this full-"scale" action-adventure. Shipwrecked on a mysterious island, the courageous kids devise a plan to capture the cagey creatures…if he even exists!
10,000 B.C.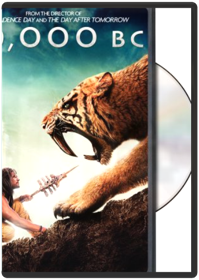 Roland Emmerich
The filmmaker who launched a UFO invasion in Independence Day and unleashed the forces of global warming in The Day After Tomorrow now unveils a new day of adventure, a time when mammoths shake the earth and mystical spirits shape human fates. Roland Emmerich directs 10,000 BC, the eye-filling tale of the first hero. That hero is young hunter D'Leh (Steven Strait), set out on a bold trek to rescue his kidnapped beloved (Camilla Belle) and fulfill his prophetic destiny. He'll face an awesome saber-toothed tiger. Cross uncharted realms. Form an army. And uncover an advanced but corrupt Lost Civilization. There, he will lead a fight for liberation – and become the champion of the time when legend began.
Doctor Who: Earthshock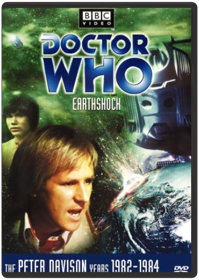 Peter Grimwade
The mysterious disappearance of an archaeological team is merely the prelude to a deadlier threat for the Doctor and his companions - the Cybermen want to destroy Earth and will use any means at their disposal. The Doctor's ingenuity is stretched to its very limits as he battles to defeat the Cyber army at any cost. But even he does not realize just how high that cost will be.

DVD Features:
Audio Commentary
Deleted Scenes
Documentary
Featurette
Music Only Track
Other
Photo gallery
Production Notes
Doctor Who: The Caves of Androzani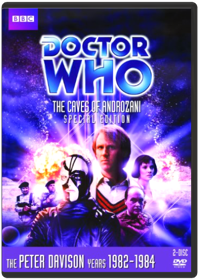 Graeme Harper
Doctor Who: The Caves of Androzani - Special Edition
Ender's Game [Blu-ray]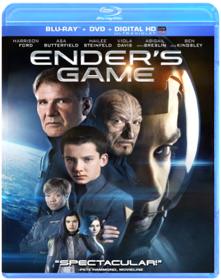 Gavin Hood
In the near future, a hostile alien race has attacked Earth. If not for the legendary heroics of International Fleet Commander Mazer Rackham (Ben Kingsley), all would have been lost. In preparation for the next attack, the highly esteemed Colonel Hyrum Graff (Harrison Ford) and the International Military are training the best and brightest young children to find the future Mazer. Ender Wiggin (Asa Butterfield), a shy, but strategically brilliant boy is pulled out of his school to join the elite.
Super Mario Bros.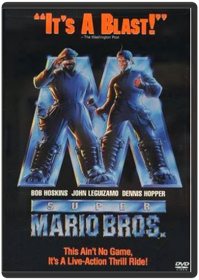 Annabel Jankel, Dean Semler, Rocky Morton
Buckle up and hang on tight — the discovery of a parallel universe launches you into the adventure of a lifetime! Mario and Luigi, two wacky plumbers, undertake a daring quest to save a princess in "Dinohattan" — a hidden world where the inhabitants evolved from dinosaurs! Mario (Bob Hoskins — WHO FRAMED ROGER RABBIT) and Luigi (John Leguizamo — REGARDING HENRY) face deadly challenges from a diaboloical lizard king (Dennis Hopper — HOOSIERS) and must battle giant reptilian goombas, outwit misfit thugs, and undermine a sinister scheme to take over the world! Blast off for nonstop excitement with SUPER MARIO BROS., the live-action thrill ride that dazzled moviegoers everywhere!
The Wolverine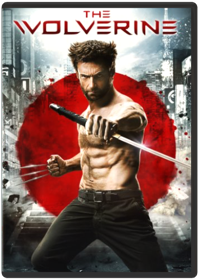 James Mangold
Hugh Jackman returns as The Wolverine and faces his ultimate nemesis in an action packed life-or-death battle that takes him to modern day Japan. Vulnerable for the first time and pushed to his limits, Logan confronts not only lethal samurai steel but also his inner struggle against his own immortality; an epic fight that will leave him forever changed.
Stargate Atlantis: The Complete Series [Blu-ray]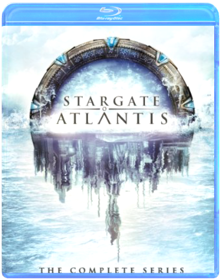 Andy Mikita, Brad Turner, Brenton Spencer, David Warry-Smith, David Winning
Explore the celestial wonders of an unknown world and experience the ultimate Sci-Fi adventure in stunning high-definition with "Stargate: Atlantis" The Complete Series Blu-ray gift set. From award-winning Executive Producers Brad Wright and Robert C. Cooper, "Stargate: Atlantis" is anchored with a compelling ensemble cast including Jason Momoa (Conan the Barbarian, "Game of Thrones"), David Hewlett (Rise of the Planet of the Apes), Joe Flanigan (Ferocious Planet), Rachel Luttrel (Imposter) and Torri Higginson (The English Patient). Continuing the journey of "Stargate: SG-1," television's longest running sci-fi series, "Stargate: Atlantis" explores the great city of Atlantis built thousands of years ago by the Ancients and the new home base for an elite expedition team from earth. Overflowing with exciting quests and surprises, fans will experience every captivating, and spine-tingling mission of the Intrepid Team from their first hostile encounter to their last rescue mission.

Winner of the 2008 People's Choice award for Favorite Sci-Fi show and three-time Emmy nominee, "Stargate: Atlantis" The Complete Series Blu-ray is the perfect gift for any sci-fi aficionado filled with all 100 episodes from seasons one through five and tons of commentary and special featurettes.

Now, for the first time on Blu-ray, you can own all five seasons of this groundbreaking science fiction series in this 20-disc set. Atlantis, built thousands of years ago by the highly evolved ancients, is home base for an elite expedition team from earth. these courageous military commanders and scientists leap through the city's stargate to explore the wondrous Pegasus galaxy and battle the treacherous wraith, who seek control of Atlantis – at any cost.
War for the Planet of the Apes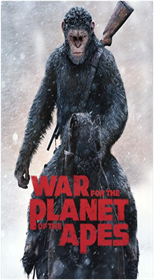 Matt Reeves
The Princess Bride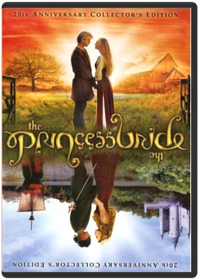 Rob Reiner
From celebrated director Rob Reiner (When Harry Met Sally) and OscarÂ(r)-winning* screenwriter William Goldman (Chaplin) comes "an enchanting fantasy" (Time) filled with adventure, romance and plenty of "good-hearted fun" (Roger Ebert)! Featuring a spectacular cast thatincludes Robin Wright (Forrest Gump), Cary Elwes (Liar, Liar), Mandy Patinkin (Dick Tracy) and Billy Crystal (City Slickers), this wonderful fairy tale about a Princess named Buttercup and her beloved is "a real dream of a movie" (People)! *1969: OriginalScreenplay, Butch Cassidy and the Sundance Kid 1976: Adapted Screenplay, All the President's Men
Doctor Who: Pyramids of Mars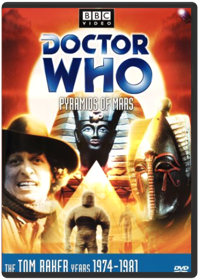 Paddy Russell
As the Doctor and Sarah attempt to return to UNIT HQ, the TARDIS is thrown off course and materializes in 1911 at an old priory owned by Egyptologist Marcus Scarman. While excavating a tomb, the archaeologist became possessed by the spirit of Sutekh, the last survivor of the godlike Osirans. The Doctor and Sarah witness strange and deadly events as Sutekh, who has lain imprisoned in a pyramid for thousands of years, employs Scarman and a legion of robotic mummies in an elaborate scheme that may bring about the destruction of the world.
X2 - X-Men United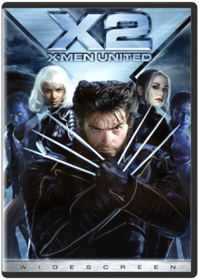 Bryan Singer
The evolution continues in this "exhilarating thrill ride" (Seattle Post-Intelligencer) that features the extraordinary original X-Men - along with amazing new mutants possessing fantastic powers that have to be seen to be believed. In the wake of a shocking attack on the President, the X-Men face their most dangerous mission ever. They must stand united with their deadliest enemies to combat a menace that threatens every mutant on the planet. But could this new alliance backfire and annihilate the human race? Patrick Stewart, Ian McKellen, Hugh Jackman, Hale Berry, Famke Janssen and Rebecca Romijn-Stamos star in this breathtaking, action-packed spectacle that "may be the best superhero movie yet made!" (San Francisco Examiner)
Jurassic Park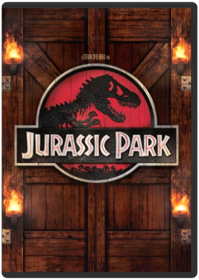 Steven Spielberg
Experience one of the biggest films in motion picture history with director Steven Spielberg's ultimate thrill ride, Jurassic Park. Featuring Academy Award winning visual effects and groundbreaking filmmaking that has been hailed as "a triumph of special effects artistry" (Roger Ebert, Chicago Sun-Times), this epic film is sheer movie-making magic that was 65 million years in the making. Jurassic Park takes you to an amazing theme park on a remote island where dinosaurs once again roam the earth and five people must battle to survive among the prehistoric predators. Starring Sam Neill, Laura Dern, Jeff Goldblum and Richard Attenborough, discover the breathtaking adventure you will want to experience again and again.
John Carter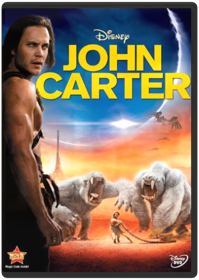 Andrew Stanton
From Academy Award(R)-winning filmmaker Andrew Stanton (Best Animated Film, Wall-E, 2008) comes John Carter — a sweeping action-adventure set on the mysterious and exotic planet of Barsoom (Mars). Based on Edgar Rice Burroughs's classic novel, John Carter is a war-weary, former military captain who's inexplicably transported to Mars and reluctantly becomes embroiled in an epic conflict. It's a world on the brink of collapse, and Carter rediscovers his humanity when he realizes the survival of Barsoom and its people rests in his hands. Stunning special effects, great characters and villains — and complete with extraordinary bonus features — John Carter is a heroic and inspirational adventure that will thrill you beyond imagination.
Fantastic Four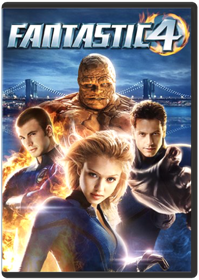 Tim Story
Jessica Alba, Chris Evans and Michael Chiklis head a sexy, star-powered cast in this explosive adventure about a quartet of flawed, ordinary human beings who suddenly find themselves with extraordinary abilities.

After exposure to cosmic radiation, four astronauts become the most remarkable, if dysfunctional, superheroes of all time. Unfortunately, the mission's sponsor has also been transformed ? into the world's most lethal supervillain ? setting the stage for a confrontation of epic proportions. Packed with nonstop action, big laughs and awesome special effects, Fantastic 4 is "powerful fun" (The Baltimore Sun) from start to finish!
Marvel's The Avengers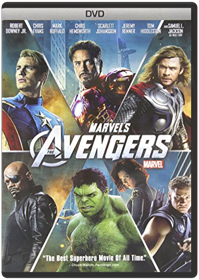 Joss Whedon
Marvel makes cinematic history as it unites the Super Hero team of a lifetime. Iron Man (Robert Downey Jr.), Captain America (Chris Evans), The Hulk (Mark Ruffalo) and Thor (Chris Hemsworth) assemble together for the first time ever in this epic, action-packed blockbuster — alongside Black Widow (Scarlett Johansson), Hawkeye (Jeremy Renner) and Nick Fury (Samuel L. Jackson). Director Joss Whedon creates an unprecedented masterpiece that has become a global phenomenon. Packed with spectacular special effects, this must-own movie sensation boasts exclusive bonus that launches you into the universe of MARVEL'S THE AVENGERS. Featuring Marvel's first-ever Gag Reel, deleted scenes, a never-before-seen Marvel short film, and an interactive Second Screen Experience, MARVEL'S THE AVENGERS will thrill your family over and over!
Harry Potter and the Deathly Hallows, Part 2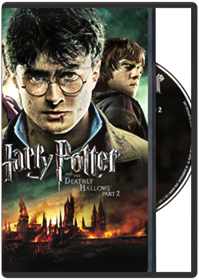 David Yates
In the epic finale, the battle between the good and evil forces of the wizarding world escalates into an all-out war. The stakes have never been higher and no one is safe. But it is Harry who may be called upon to make the ultimate sacrifice as he draws closer to the climactic showdown with Lord Voldemort. It all ends here.